< back
Kinetic exhibit makes statement with art, sound
Loren Merchan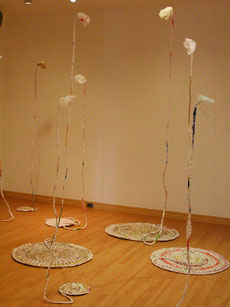 Media Credit: Brandi Borden. One of the creations by artist Mae Leong from her exhibit "Barcode + Sound: Traces of Invisible Codes."
"Barcode + Sound: Traces of Invisible Codes," an exhibit created by Hong Kong-based artist Mae Leong, made its appearance in the College Union's Kinetic Gallery on March 30.

Leong addresses the issue of globalization in the world throughout the exhibit by, in her words, exposing the "boundless digitalization [that] overwhelms the human world, spiritually and physically."

The exhibit accomplishes Leong's goal by combining barcodes of everyday consumer products from all over the world with the sound that a barcode makes when it is being scanned.

The faint and constant sound, "between the state of being heard and not heard … unfolds an unconsciousness and unawareness" of constant digitalization, according to Leong's artist statement.

Leong packaged thousands of barcodes from different consumer products into individual bags, and placed each on a mesh hanger to be displayed in the Kinetic exhibit. The repetitive sound of the barcodes being scanned is just faint enough for observers to hear but easy for them to overlook; it functions on a subconscious level.

The barcodes themselves represent the boredom, repetition and monotony of the digitalized world. Leong commented on putting together "Barcode + Sound," saying that "this monotonous, labor-intensive process [required to create the exhibit was] industrious and emotionless."

From the monotony of its preparation to the constant, subtle sounds penetrating each observer's subconscious, the exhibit confronts the "depersonalization, dehumanization, and alienation" that society has begun to incorporate into everyday life, as Leong says in her statement.

"What was interesting was the way the exhibit wasn't just visual and it wasn't just functioning on a conscious level," said sophomore Scott Doty. "When I walked into the exhibit it seemed a little abstract but I think that the sound that was functioning on a subliminal level actually caused the exhibit to make more sense as time went on."

Freshman Michelle Wilson agreed. "It was interesting to see someone take so many simple and obvious items that we encounter each day and make them into a statement about our ability to overlook things and fall into a routine is a real problem."

Leong was able to use an object that functions in daily life as a symbol of just how repetitive the daily culture of the time has become. "Barcode + Sound" will be on display in the Kinetic Gallery until April 18.